How Much Does It Cost to Start an LLC in Arkansas
Written by: Carolyn Young
Carolyn Young has over 25 years of experience in business in various roles, including bank management, marketing management, and business education.
Reviewed by: Sarah Ruddle
For over 15 years, Sarah Ruddle has been a noteworthy leader in the business and nonprofit world.
Updated on April 18, 2023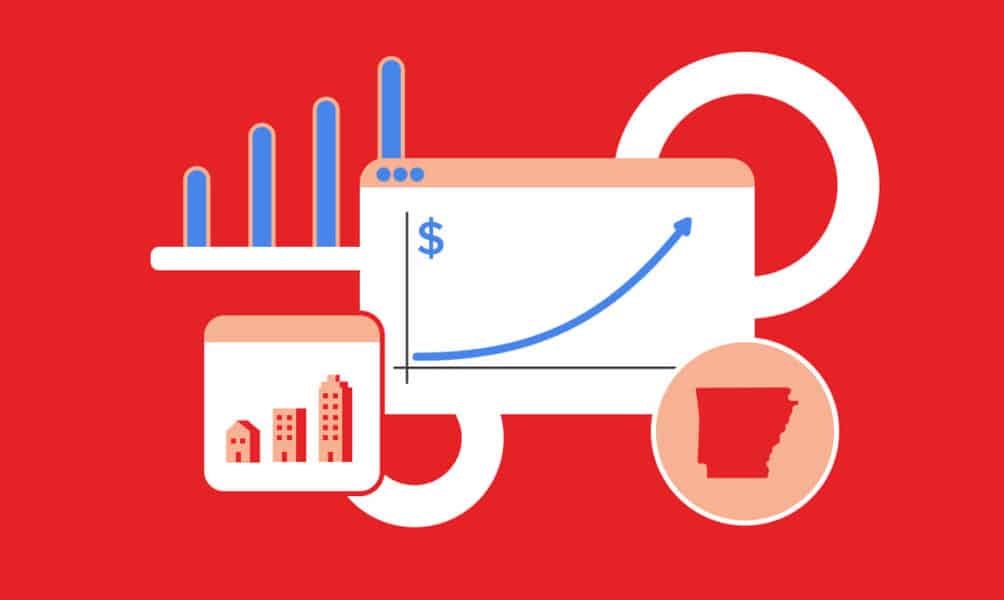 How Much Does It Cost to Start an LLC in Arkansas
Arkansas LLC Costs
Name Reservation Fee
Cost to Register Your LLC in Arkansas
Business Licenses and Permits
Doing Business As (DBA) Name
Annual Reports
In Closing
If you're starting a business in Arkansas, you may consider forming a limited liability company (LLC). Before diving in, you should know that this comes with costs.
To prepare you, this handy guide details all you need to know about launching an LLC in Arkansas.
Arkansas LLC Costs
| Requirement | Cost |
| --- | --- |
| Name Reservation Fee | $25 |
| LLC Registration Fee | $50 by mail, and $45 online |
| Business License Fees | Vary by localities and type of business |
| DBA fee | Varies by county |
| Annual Report Fee | $150 annual franchise tax |
Name Reservation Fee
One of your first decisions will be what to name your LLC. Once you've chosen the perfect name, you can reserve it with the state until you're ready to form your LLC officially.
To do so, you'll need to make sure the name is available. Here's how:
1. Check for availability in Arkansas
To ensure the business name is available, go to the Secretary of State's website and enter the names you like as well as similar names. You don't want a business name that can be easily confused with other businesses in Arkansas.
2. Check Arkansas LLC name regulations
In Arkansas, your LLC name must include the phrase "limited liability company" or an abbreviation such as LLC or L.L.C., and you cannot include words that could confuse your Arkansas LLC with any government agency.
Additionally, the name must be distinguishable from all other business names in Arkansas.
3. Check Trademarks
It's a good idea to ensure the name has not been trademarked. Check with the US Patent and Trademark Office to ensure the name is available nationally. 
4. Check domain name availability
You'll want to ensure the domain name is available. You can check at a site like GoDaddy.com and use .com or .org, as those give your business more credibility.
5. Google it
Do a Google search to ensure the name is not being used in the U.S. or internationally. This is particularly important if you plan to have a strong online presence for your business.
Once you've done your due diligence and know your preferred business name is available, you can reserve the name with the state using this name reservation form.

The fee is $25, and the name will be held for 120 days.
Cost to Register Your LLC in Arkansas
To officially form your LLC, you'll file a certificate of organization with the state of Arkansas by visiting the Secretary of State's website. You'll need the following information:
Business name
Business address
Business email and phone number
Registered agent name and address
Organizer name and address
Submitter name and address
Annual report contact information

In Arkansas, the fee is $50, and your LLC should be approved in one to two days.
Business Licenses and Permits
Your LLC may also need to obtain licenses and permits at the federal, state, and local levels. These, of course, come with varying fees.
At the federal level, licenses and permits are generally industry-specific and may include health licenses and permits from the Occupational Safety and Health Administration (OSHA).  
You may need a general business license to operate at the state level. If you sell tangible goods or services subject to sales tax, you'll need a sales tax license, also known as a seller's permit.
Check the SBA guide for specific licenses required for your business. 
Here are some standard licenses and permits you may need:
Industry-specific licenses for certain professions and industries such as construction, plumbing, electrical, childcare, food handling, liquor, architecture, and finance
Building and zoning permits
Doing business as (DBA) permit if you're doing business using a name other than your LLC name
Health licenses and permits at federal, state, and local levels
Fire permits
Sign permits
This is a significant step in the LLC formation process, so make sure to check with your state and local government offices to find out all the licenses and permits that you need and their costs. If you operate without the proper licenses and permits.
If you need help, it's a good idea to consult a business attorney to ensure you're in full compliance. You can also use a service like MyCorporation to do the research and provide you with all the forms you need to license your business. 
Doing Business As (DBA) Name
If you plan to do business under a name that is not your LLC, you'll need to register a "doing business as," or DBA, name.

In Arkansas, DBA names are called assumed names and registered with the county clerk. Fees vary.
Annual Reports
In Arkansas, your LLC must file an annual franchise tax report to verify your business information and confirm you're still doing business.

In Closing
Starting an LLC in Arkansas is instead a complicated process that includes a handful of fees. There are several hoops to jump through, but the benefits of ensuring your LLC is properly registered, and fully compliant are huge, while the alternative risks significant penalties.
LLC formation can be daunting, so many entrepreneurs prefer a professional service like ZenBusiness. This ensures the process is done correctly, saving time and giving you peace of mind.