How to File a Certificate of Formation in Delaware
Written by: Carolyn Young
Carolyn Young has over 25 years of experience in business in various roles, including bank management, marketing management, and business education.
Reviewed by: Sarah Ruddle
For over 15 years, Sarah Ruddle has been a noteworthy leader in the business and nonprofit world.
Updated on August 14, 2023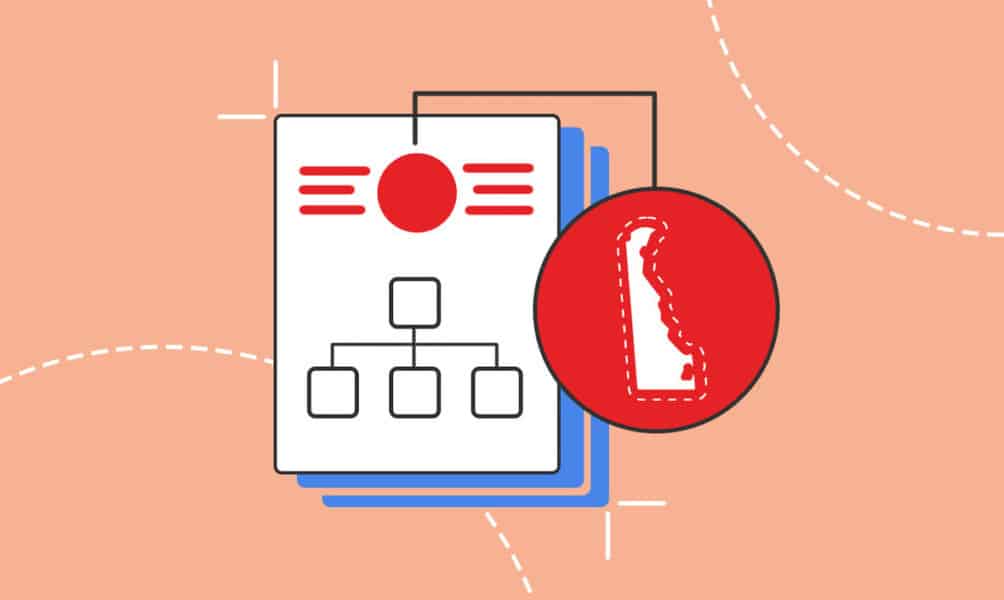 How to File a Certificate of Formation in Delaware
What is a Certificate of Formation for an LLC?
First, Select a Registered Agent for Your Delaware LLC
How to Submit a Certificate of Formation in Delaware
Draft an Operating Agreement
Contact Information for the Delaware Division of Corporations
In Closing
Many Delaware entrepreneurs choose to form a limited liability company (LLC) because of the many benefits of this business entity type. An LLC provides liability protection, for instance, so your assets are not at risk if your business is sued or cannot pay debts.
An LLC is a "pass-through entity" for tax purposes, meaning that the LLC itself is not taxed. Instead, income passes through the business to the LLC owners or members, who report it on their tax returns. LLCs also offer flexibility in terms of management and taxation.
Creating an LLC is relatively straightforward, but ensuring it's done correctly is crucial to getting your Delaware business on the right foot. The most critical step is filing a certificate of formation.
What is a Certificate of Formation for an LLC?
The certificate of formation (also known as Articles of Organization in other states) is a legal document filed with the Delaware Division of Corporations to form an LLC officially. It will include your business name, address, registered agent information, and more, as detailed below. 
First, Select a Registered Agent for Your Delaware LLC
Delaware requires LLCs to appoint a registered agent, a person or company authorized to accept and respond to official business correspondence, such as legal, tax, or financial documents.
The registered agent ensures all required notices and documents are received. In Delaware, the registered agent can be an LLC member, individual, or entity that meets state requirements. In Delaware, a registered agent must:
Be 18 years or older
Have a physical address in the state
Be available during regular business hours
Be registered to operate in the state, if it's a business
Many business owners hire a registered agent service to ensure their LLC stays fully compliant and for convenience.
If you choose to be your registered agent, you must be at your registered agent's address for all business hours. A registered agent service allows you to be wherever you need to be to run and grow your business.
How to Submit a Certificate of Formation in Delaware
To start, visit the Division of Corporations website and create an account to access the certificate of formation online.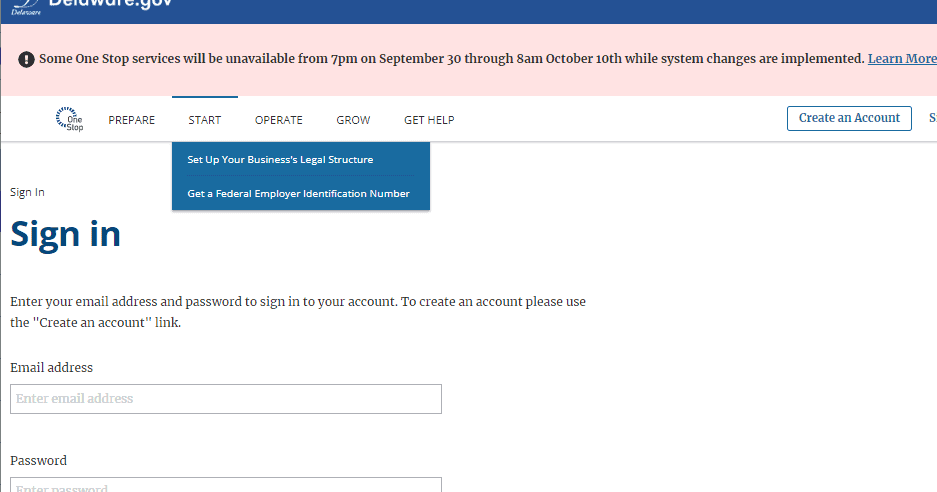 In Delaware, the certificate of formation requires the following information:
Registered agent information
Registered office address
Once signed in, click "Start," then select "Set Up Your Business's Legal Structure." Select LLC, and you'll be taken to the online form to fill in your entity name and registered agent information.
You'll have the opportunity to review the information before payment.

The filing fee is $90. You should receive confirmation in seven to ten days.
Some entrepreneurs hire an LLC formation service like ZenBusiness to handle this step, saving time and ensuring the process is done correctly.
Draft an Operating Agreement
Delaware requires that you have an operating agreement. It is not filed with the state but must be kept in your records. It's a crucial document that defines members' ownership percentages and profit allocations. Those are the two key elements, but it should also include the following:
Each member's rights and responsibilities
Management structure and roles
Voting rights of each member
Rules for meetings and voting
What happens when a member sells their interest, becomes disabled, or dies
You can find operating agreement templates online, but it's best to have them drawn up or reviewed by an attorney. The language of an operating agreement is crucial and can often help determine how member disputes will be resolved. Here you can obtain a free operating agreement template for your Delaware LLC.
Contact Information for the Delaware Division of Corporations
Delaware Department of State Website
Delaware One Stop – Online Business Services Website
Division of Corporations
John G. Townsend Bldg.
401 Federal Street, – Suite 4
Dover, DE 19901
(302) 739-3073 option 2
In Closing
There's only one way to create an LLC in Delaware: successfully filing a certificate of formation. If you make any mistakes, you'll likely have to refile, so be sure to do it right the first time and set your business up for serious success!